Unmanned Aerial Vehicle and Anti-UAV System
UAVs include reconnaissance/strike UAVs (CH-5, CH-4, CH-3, FH-92A and FH-901) and multi-purpose reconnaissance UAVs (FH-91, FH-96, CH-804, CH-10 and FH-902) with maximum operation radius of 250km and endurance from 1 to 30 h. Featuring high reconnaissance effectiveness, high anti- jamming capability, diversified payloads, integrated reconnaissance & strike, easy operation and simple maintenance, CH and FH series UAVs can be used for military operations, such as battlefield surveillance, intelligence acquisition anti-terrorism combat, no-fly zone patrol, firing calibration, data relay and electronic warfare.
Anti UAV System integrates detect, control and defeat devices to protect airspace safety.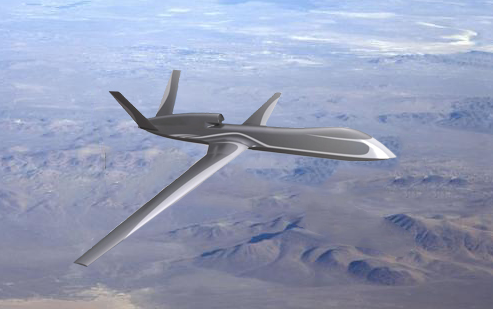 ZQWJ-700
OVERVIEW
ZQWJ-700 is a strategic multi-purpose large-scale UAV system, which has the characteristics of high speed, high altitude, long endurance, large load capacity and so on.700 UAV uses a turbofan engine.700 has a maximum flight speed of 700km/h,so it can achieve high-speed penetration.The maximum ceiling is 15000 meters, this altitude is beyond the range of air defense missiles equipped by many countries.
It can be loaded with photoelectric pod(EO/IR), multi-functional surveillance radar (SAR/GMTI/MMTI), electronic reconnaissance payload (ELINT) and other mission equipment, and can be externally loaded with air to ground missiles, anti radiation missiles, glide guided bombs and other weapons.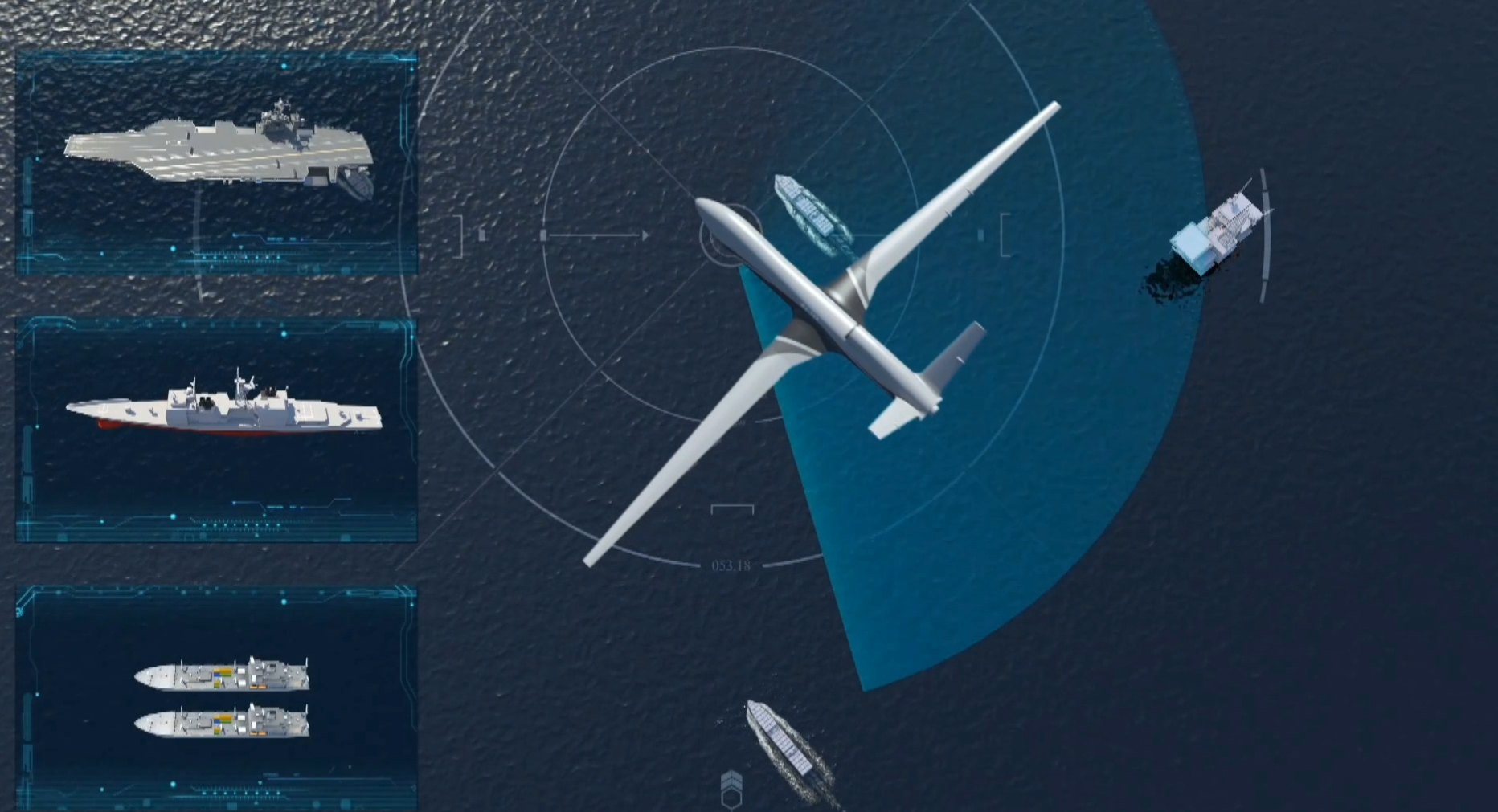 MAJOR FEATURES
Design of high speed and high altitude
Design of high stealth
Wide variety of cutting edge payloads
Adverse weather capabilities
Carry kinds of air-to-surface missiles to attack moving targets on the sea and ground
Carry anti radiation missile to destroy enemy air defense system radar
UAV SYSTEM COMPOSITION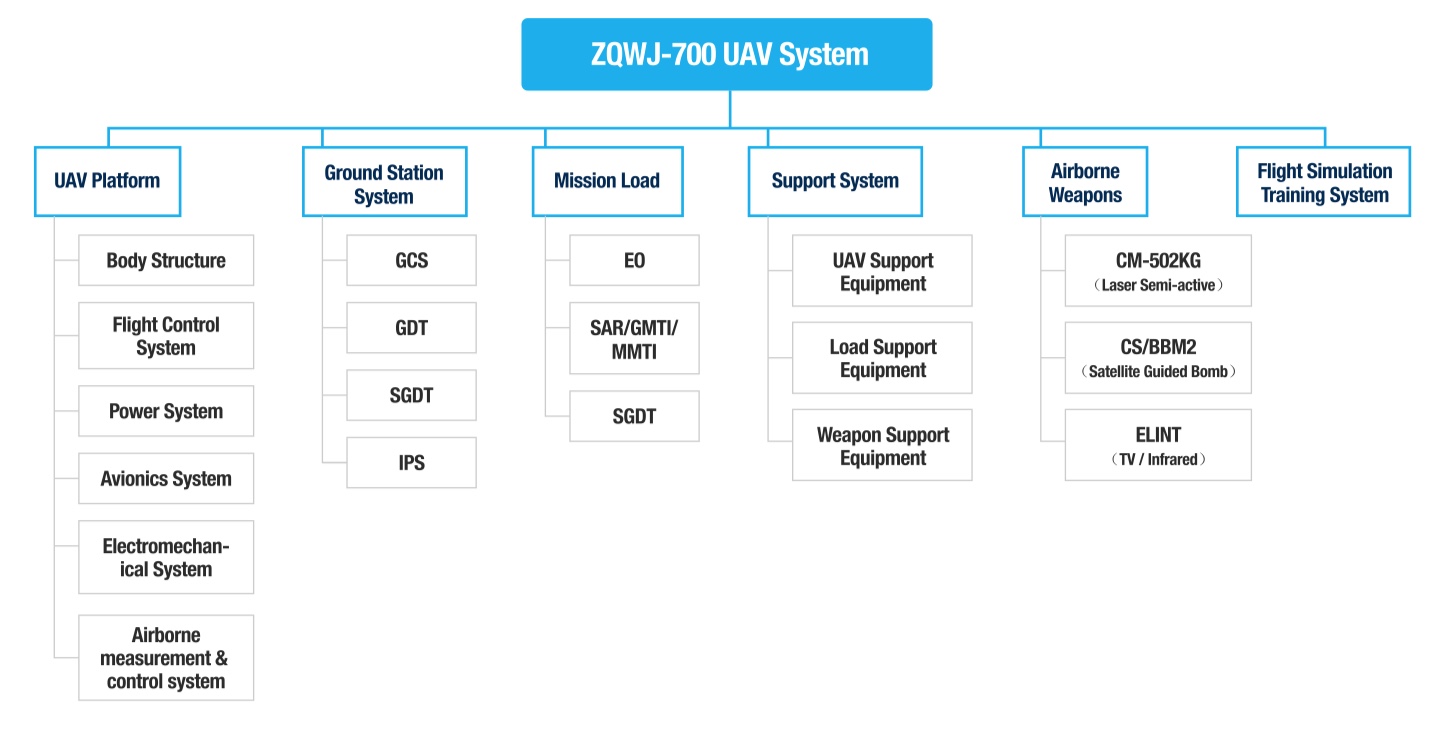 TECHNICAL SPECIFICATIONS
Platform Performance Parameters
Task Capability
UAV carries different mission loads and airborne weapons, and has different reconnaissance, surveillance and strike mission capabilities;
Endurance
Reconnaissance configuration:14 hours Strike configuration:8hours
Plug In Capability
Set 4 hanging points, and the total weight of external hanging is no more than 480KG
Emergency
Response Capability
Self return in case of continuous interruption of TT & C link
Downlink Data
Bandwidth
Sight distance:8Mbps 32Mbps which can be set externally (sight distance)
Satellite:2.048Mbps ~8.192Mbps
Working Environment
Temperature And Humidity
Working temperature: -55℃-60'℃
Humidity: no more than 95%
Missiles
Air to ground missile
Gliding satellite guided bomb
Anti radiation missile
Wing span
23m
Length
11m
Height
3.4m
Maximum Takeoff Weight
3200kg
Maximum Flight Speed
650km/h
Cruise Speed
300-600km/h
Ceiling
15000m
Integrated Navigation Mode
Satellite + inertial integrated navigation mode, in which the satellite receiver has anti-interference ability;
Measurement And Control Distance
250km (line of sight), within the effective coverage of satellite antenna beam (satellite relay);
Payloads
Photoelectric pod (EO/IR)
Multifunctional surveillance radar (SAR/GMTI/MMTI)
Electronic reconnaissance load (ELINT)