Unmanned Aerial Vehicle and Anti-UAV System
UAVs include reconnaissance/strike UAVs (CH-5, CH-4, CH-3, FH-92A and FH-901) and multi-purpose reconnaissance UAVs (FH-91, FH-96, CH-804, CH-10 and FH-902) with maximum operation radius of 250km and endurance from 1 to 30 h. Featuring high reconnaissance effectiveness, high anti- jamming capability, diversified payloads, integrated reconnaissance & strike, easy operation and simple maintenance, CH and FH series UAVs can be used for military operations, such as battlefield surveillance, intelligence acquisition anti-terrorism combat, no-fly zone patrol, firing calibration, data relay and electronic warfare.
Anti UAV System integrates detect, control and defeat devices to protect airspace safety.

ZQHW-350E
OVERVIEW
ZQHW-350E small multi-purpose long endurance UAV system adopts high-performance aerodynamic shape design and composite fuselage.It has the characteristics of long endurance, wide range of use and rich load types.It can carry optical pod, communication equipment, navigation equipment, small synthetic aperture radar etc.It can be widely used in many fields such as sea area monitoring, meteorological detection, test with flight, emergency communication and rescue, etc.
MAJOR FEATURES
Multiple payload applications: Reconnaissance and surveillance; Target search and disaster assessment; Communication relay;
Long endurance flight, which can reach 18h with payload weight of 20kg
Full autonomous flight, "one key take-off and landing", with high degree of intelligence;
High reliability, wheel type autonomous take-off and landing, good reusability, aviation certified engine;
The fuselage is made of 3K pure carbon material with light weight and high strength;
Equipped with portable ground control system, the flight mission planning is simple and fast;
It is equipped with command and control vehicles with high integration and strong environmental adaptability.
UAV SYSTEM COMPOSITION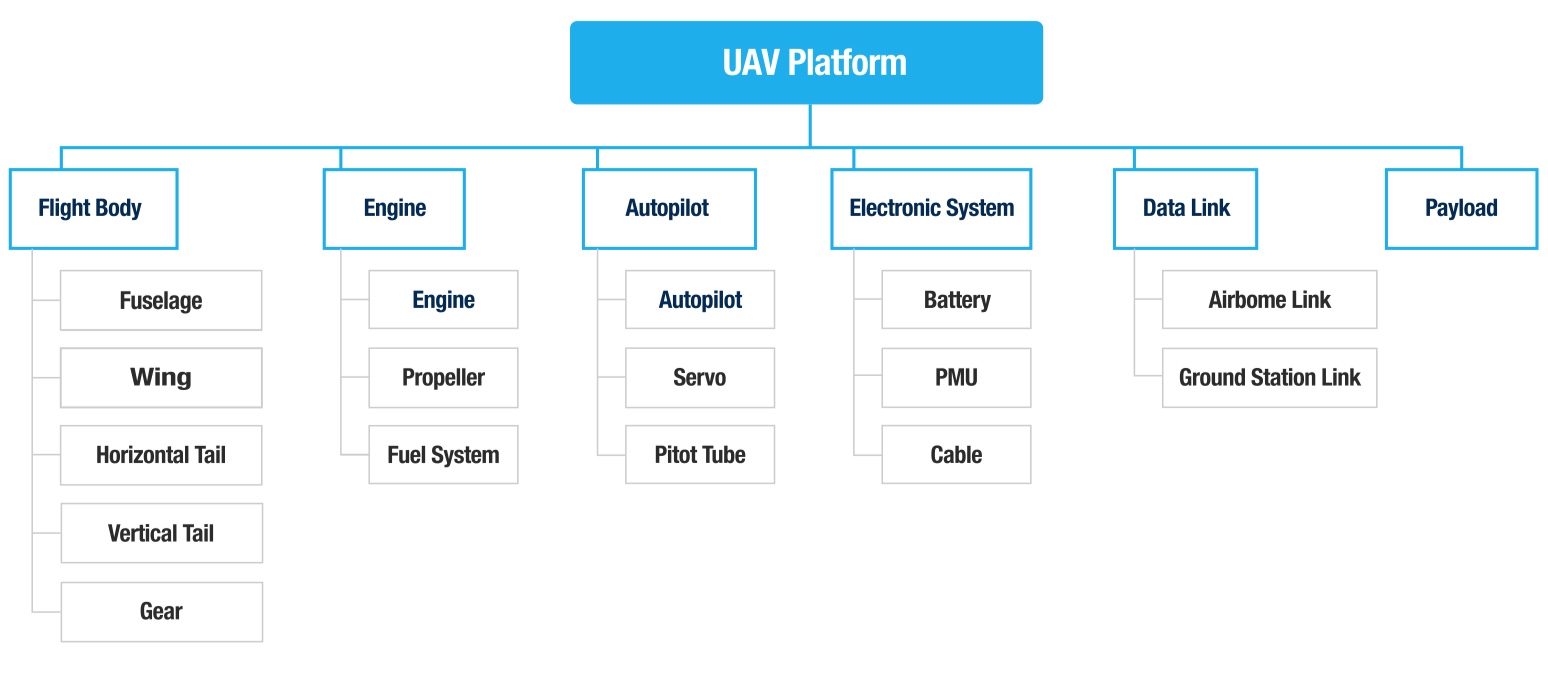 TECHNICAL SPECIFICATIONS
Platform Performance Parameters
| | |
| --- | --- |
| Wingspan | 8.5m |
| Length | 5.8m |
| Height | 1.6m |
| Max taking off weight | 240kg |
| Payload weight | 30-50kg |
| Ceiling | 4500m (see level) |
| Cruise speed | 130km/h-150km/h |
| Max speed | 180km/h |
| Endurance | 18h (payload 20kg) |
| | |
| --- | --- |
| Control distance | 100km (Intervisibility) |
| Taking off and landing | Fully autonomous wheel |
| Power | Gasoline |
| Wind resistance | 15m/s |
| Take off preparation time | ≯30min |
| Position withdrawal time | ≯20min |
| System storage temperature | -40℃~+55℃ |
| Working temperature of airborne equipment | -40℃~+55℃ |
| Working temperature of ground equipment | -40C~+55℃ |