Tactical Ground-to-ground Attack Weapon System
The tactical ground-to-ground attack weapon system comprises state-of-the-art M20 missile, WS-43 loitering attack weapon system and multiple launch rocket system (A series and WS series) with precision guided, simple guided and unguided types. The system features universal platform, diversified kinds of warheads, integration of reconnaissance, attack, control and assessment, and a full range of 20 -290 km for a variety of missions.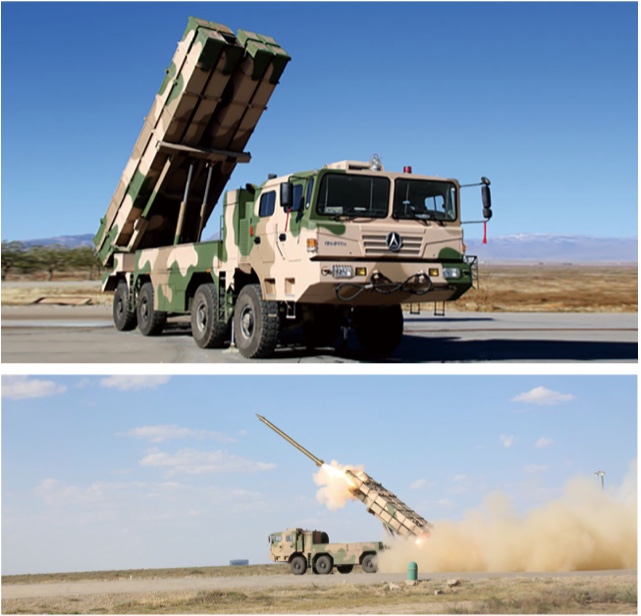 A100G
OVERVIEW
A100G MLRS, which configured with A120 rocket and A150 rocket, is designed to suppress, neutralize, delay, or destroy various point targets and concentrated groups of targets within a range of 40-150km. The rockets adopt full course inertial/multimode-satellite combined guidance system, and have a certain maneuverability during the flight.
MAJOR FEATURES
Strong Power
Multiple Strikes
Simple Operation
Easy Maintenance
SYSTEM COMPOSITION
A100G rocket battery is the basic battle unit, and its organization is designed for independent combat.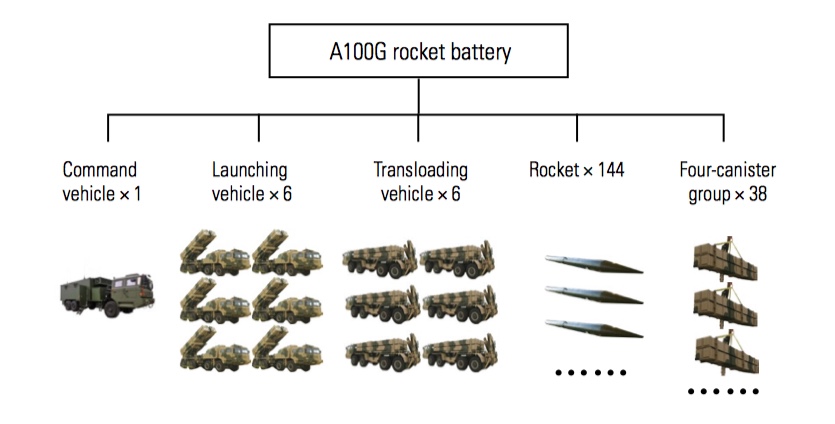 TECHNICAL SPECIFICATIONS
A120 rocket
A150 rocket
Range
45-110 km
55-145 km
Accuracy
CEP ≤ 30 (Unitary warhead)
CEP ≤ 45 (Cluster warhead)
Weight of Warhead
260 kg
190 kg
Take-off Mass
810 kg
Length of Rocket
7,200 mm
Diameter of Rocket
Φ310 mm
Guidance Mode
INS+GNSS(BDS/GPS/GLONASS)
Type of Warhead
Unitary blast
Unitary fragmentation
Fragmentation cluste
Maneuverability of Rocket
2 × 2 km
Function of Canister
Storage,transportation,launching
Launching Readiness Time
≤ 6min
From launching vehicle driving to the launch site
≤ 2 min
From horizontal ready-to-launch status to launch
≤ 0.5 min
From oblique ready-to-launch status to launch
Loading Quantity
8 per vehicle
Launch Mode
Vehicular oblique hot launch without preset position