Air Defense Missile Weapon System
The air defense missile weapon systems is composed of medium range interceptor (LY-80 series against aerial vehicle and anti- ship missile) and short range air defender (FB series and FN series) with an envelope of 10-20,000m altitude and 0.5-70km slant range, which constitutes a national or area defense system for area air defense, point air defense, fortification air defense and marching air defense. Featuring quick response, strong anti-jamming capability, highly automated fire control, good compatibility for joint combat mission, high maneuverability, easy operation, simple maintenance and battle proven performance, the air defense missile systems are the best choice for modern air defense needs.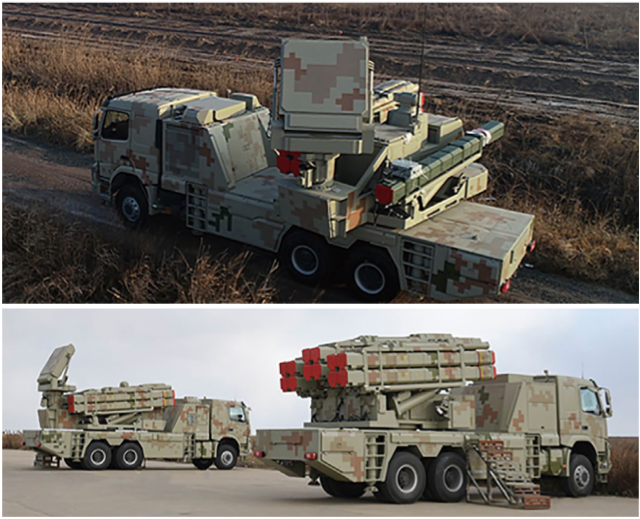 LY-70
OVERVIEW
LY-70 Mobile Air Defense Missile Weapon System is designed to intercept air targets such as high-performance combat aircrafts, cruise missiles, air-to-ground missiles, UAVs, guided ammunitions & rockets and attack helicopters in high-density attack and strong electro-magnetic interference conditions in all weather at day and night. The system is mainly used for critical asset air defense and escort air defense.
The LY-70 combat vehicle integrates AESA search & tracking radar, E/O search & tracking device, weapon control, missile launch, two types missiles including active radar homing guidance missiles (LY-70R missile) and IR staring imaging missiles (LY-70IR missile) .
MAJOR FEATURES
High Integration Level & Quick Reaction
Strong Mobile Combat Capability
High Combat Proficiency & High Survivability in Battlefield
Strong Fire Power & Multi-target Engagement Capability
High Anti-Jamming Capability
High Reliability and Easy Operation
SYSTEM COMPOSITION
LY-70 weapon system is composed of combat equipment and logistic support equipment Combat equipment consists of LY-70R Missile-in- canister (MIC), LY-70IR Missile-in-tube (MIT), Combat Vehicle (CV) and Firing vehicle (FV). Support equipment consists of Logistic Support Vehicle (LSV), Missile Test Equipment, System Simulator and Training MIC/MIT.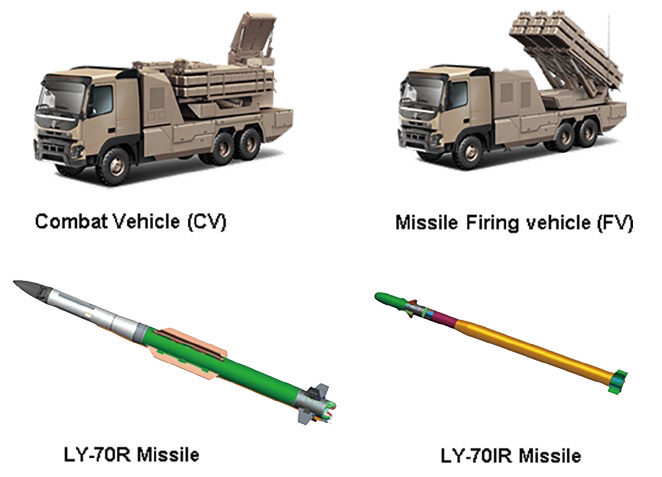 LY-70 weapon system employs modular configuration, and the configuration is flexible as per actual battlefield requirements. Proposed configurations are shown in following table.
S/N
Configuration
CV
FV
LSV
Missile QTY
(LY-70R & LY-70IR)
1
Minimum
1
0
1
8&6
2
Standard
3
4
2
64 & 48
TECHNICAL SPECIFICATIONS
Platform Performance Parameters
LY-70R
LY-70IR
Interception Altitude
20-17,500 m
12-7,000 m
Interception Range
2-38 km
1.5-17 km
Search Radar Mode
Active Electronic Scanning Array (AESA)
Detection Performance
Range 25-90 km
Azimuth 0º - 360º
Elevation -5º - +70º
Launch Mode
Oblique servo thermal launch
Guidance Mode
initial strap down inertial guidance + update command + active radar homing guidance
update command + IR staring imaging guidance
Capability against Multiple Targets
Radar: Detect 100x targets and max track 8x targets.
E/O search & tracking device: Detect 50x targets and track 1x target.
One CV can simultaneously guide 16x missiles to engage 8x targets.
System Reaction Time
8 s
Single Shot Kill Probability (SSKP)
≥ 0.90 against aircraft targets
≥ 0.85 against missile targets
≥ 0.8 against aircraft targets ≥
0.7 against missile targets